August 28th, 2020
What Does My Smile Have Anything To Do With Covid-19?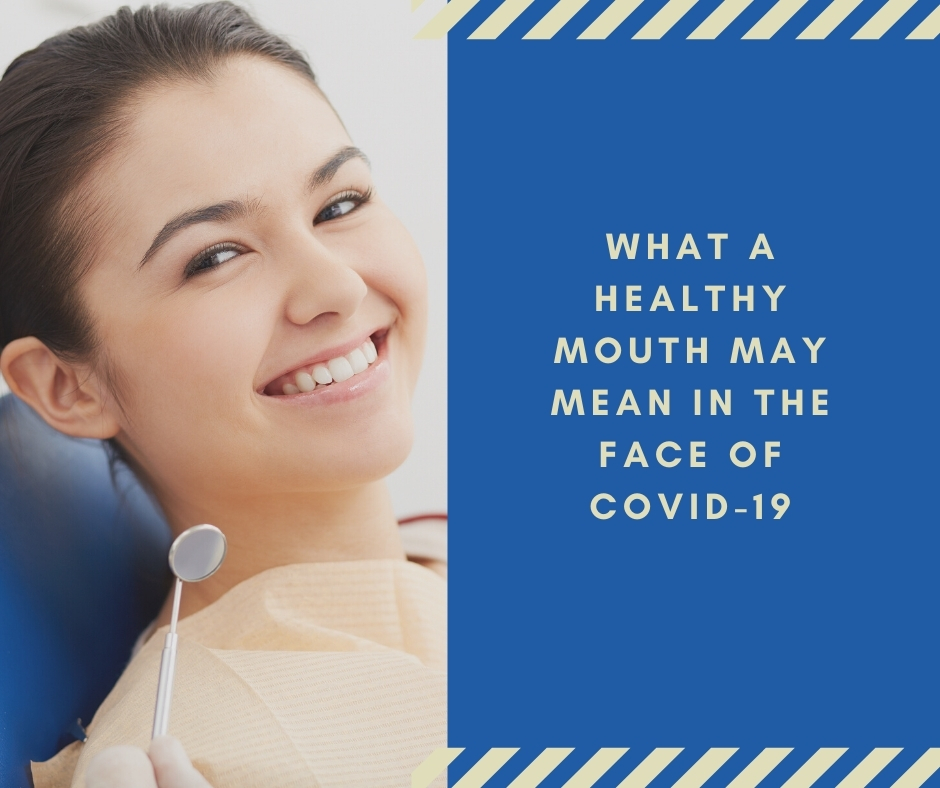 Ongoing research demonstrates repeatedly the close connection between the health of the oral cavity and the development of certain diseases. For example, in recent years researchers believe that there is a strong correlation between inflammation in the mouth, as a response to bacterial plaque, that causes gum disease to type II diabetes and cardiovascular disease.  Therefore, it's not a leap to wonder in the midst of the COVID-19 pandemic, how does one's oral health have an impact with this novel virus?
A recent study published in the British Dental Journal explored the link between oral health and COVID-19 infection, this study identified that known risks from oral bacterial overload, including heart disease and diabetes, are common complications that make COVID-19 illness more severe. They also pointed out the additional risks related to aspirating (inhaling) saliva with a high oral bacterial load for causing pneumonia and other respiratory difficulties. Finally, they examine the link between increased inflammation, a known problem from high oral bacterial load, and poor outcomes in COVID-19. They concluded that oral health should be maintained or improved to preserve overall health during the pandemic.
As always, we encourage you to stay healthy, mask up, wash your hands, brush twice a day and floss daily. For a check-up exam with Drs. Jessica Chen or Daniel Kwong at Duvall Family Dental, please call us at (425) 354-3628, or email at info@duvallfamilydental.com and know that we've taken increased precautions, more than required by health authorities, to keep you and our team safe during the pandemic.
Below is a list of the added protocols and precautions we're taking moving forward, some of which we look to you for understanding and cooperation. We can't do it without you!
You will be contacted 48-72 hours prior to your appointment via phone, text or email and asked a set of health-related questions. It is required that we complete this questionnaire prior to your appointment. We will have to reschedule your appointment if we are unable to complete this step.
Personalized arrival procedures to guide you from your car directly to treatment rooms to eliminate contacting surfaces. Check-in via the link in your text or by calling us at 425-354-3628.
Payment arrangements will be made in advance to avoid delay and allow contactless exit from appointment.
We ask drivers and parents to wait in the car as we limit the number of people in our building. Young children with appointments may be accompanied by one guardian. Please do not bring children to adult appointments.
We require a mask or face covering of mouth and nose upon entering our office and leaving. Due to limited supply of PPEs, we are unable to provide masks to you.
Hand sanitizers are available to use upon entering and more throughout the office.
We have removed magazines, water, coffee, toys, and other items that can harbor or transfer germs which are difficult to clean and disinfect.
We're introducing an oral pre-rinse to all patients to reduce exposure to germs.
Recording temperature of every patient upon entering the office.
Recording temperature and lung efficiency of every team member on a daily basis, at the beginning and end of work period.
Enhanced operatory disinfection procedures before and after all appointments with fogging devices to access hard to reach places.
Ambient air management with medical grade ionizing HEPA air filtration in treatment rooms and common areas to remove germs from circulating air.
Sneeze guards at reception area.
We will do our best to allow greater time between patients to reduce waiting times for you, as well as to reduce the number of patients in the reception area at any one time.
Enhanced nightly disinfection procedures of equipment and office fixtures like computers, keyboards, telephones, tablets, chairs, doorknobs, and buttons that may be touched unconsciously.
Quite the list right? We thought so too. If we didn't feel it is necessary to achieve our goal of safety while providing you excellent dental care during this COVOID-19 Pandemic, the protocol wouldn't have made the cut.