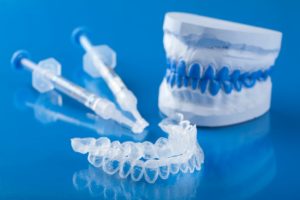 Teeth whitening is very popular. Patients ask us all the time how they can brighten their smile. One method to achieve a brighter smile that we offer at Duvall Family Dental is custom fabricated whitening trays.
How Do Whitening (Bleaching) Trays Work?
We make the trays for you with two easy impressions of your teeth and then provide you with the whitening agent (Carbamide Peroxide gel) to use safely at home. Before starting the whitening process, we will want to clean your teeth and treat any existing dental problems like decay or gum disease. The next step is making your custom trays.
When you return to receive your whitening kit (trays plus gel), we will instruct you how to place a small amount of the whitening solution into the clear trays and to wear the trays on freshly brushed teeth for up to 45 minutes per night. The key to success with this method is to wear the trays for up to one hour a day, everyday, for one to two weeks. It is very important to use the trays for consecutive days. One night of whitening here or there will not give your enamel long enough exposure to the whitening agent to see much change. Using the trays nightly for at least a week will give you better results. Patients are often amazed at how much whitening takes place during this time, and an occasional treatment now and then is all you'll need to keep your teeth looking their best.
Side Effects
Whitening your teeth is a very safe, effective way to brighten your smile. Within one to three days after starting the whitening process, you may experience some increased cold sensitivity with some or all of your teeth. If this happens, alternate nights with the trays. Whiten only your upper teeth one night and then just your lower teeth the next night. Typically this sensitivity resolves 2-3 days after completing the whitening process. If any sensitivity persists, check with your dentist to rule out any other dental problems.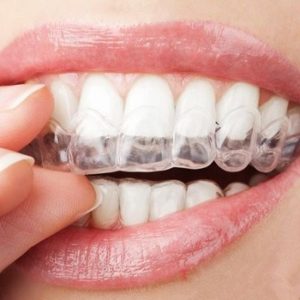 Stay Bright
Naturally, those with shiny white teeth and a brilliant smile want to keep it that way. Here's how:
Brush your teeth twice a day with a whitening toothpaste
Floss daily.
Avoid foods and drinks that stain your teeth, such as coffee, tea, wine, carrots, blueberries and other dark-colored foods.
Schedule regular cleaning appointments.
Avoid smoking or chewing tobacco.
Duvall Family Dental 
425-354-3628
Dr. Jessica H.Y. Chen